Meats
Nigel Moore is our meat department manager, and he takes great care to make sure that all of our meats are sourced locally. We also have a selection of hormone, antibiotic-free meats.
Unger's is proud to support Hayter's Farms, a third generation, family-owned turkey farm, offering turkey bacon, sausages and more, as well as fresh turkeys for Christmas, Thanksgiving, and Easter.
Our customers trust us to only offer quality meat: no fillers, no injections, and locally sourced. Nigel Moore is a master at his trade–stop by and feel free to ask him for some meat cooking tips.
Shannon's Traditional Irish Sausages
---
Shannon's sausage, sold exclusively at Unger's since 1995, were created by Nigel Moore, our meat manager. WShannon's traditional Irish sausage is prepared fresh in store using spices imported from Ireland, lean local meats, and a recipe that is Nigel's own.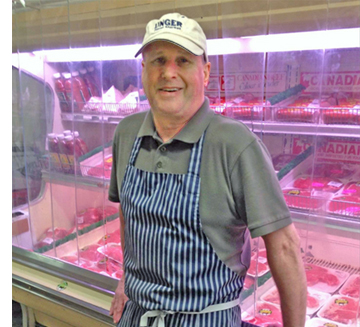 His selection is as follows: pure pork, pure beef, pork and apple, sweet chili pork, pork with garlic, Italian pork, lean turkey, and Gluten Free pork, and Gluten Free turkey. Call ahead to make a custom order or to reserve yours.