Nigel Moore, our meat manager emigrated from Ireland to Canada in 1989, and began working for Unger's in April of that year. Nigel was given a small cutting board and a very sharp knife, and was asked if he could create a meat department!
He takes great care to make sure that all of our meats are sourced locally. Our beef comes from Norwich Packers, our pork is from Cambridge, and our poultry is from the Milton area. Unger's is proud to support a three generation, family-owned turkey farm, Hayter's, in Dashwood. We carry their turkey products (bacon, sausage, roasts, etc.) as well as bring in fresh turkeys for Christmas, Thanksgiving, and Easter. We also have a selection of hormone, antibiotic-free meats.
Many customers tell us they won't buy meat from anywhere else. They know they can trust Unger's to only serve quality, no fillers, no injection, local meats. Nigel Moore is a master at his trade–stop by and get to know him. He will be happy to cut your meat to suit your taste and give advice on how to cook it to perfection… just ask him.
Shannon's Traditional Irish Sausages
---
Shannon's sausage, sold exclusively at Unger's since 1995, was created by Nigel Moore, our meat manager. We have customers coming from Detroit, Toronto, and even as far as Vancouver! Londoners love that Shannon's is made by an Irishman who has been making sausages since he was 16! Shannon's traditional Irish sausage is prepared fresh in store using spices imported from Ireland, lean local meats, and a recipe that is Nigel's own.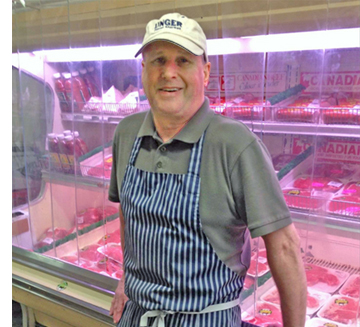 His selection is as follows: pure pork, pure beef, pork and apple, sweet chili pork, pork with garlic, Italian pork (I know, I know, how is that Irish? Doesn't matter, it's delicious), lean turkey, and Gluten Free pork, and Gluten Free turkey. Call ahead to make a custom order or to have some set aside. They are sold in links, patties, and bulk. "and may the road to Unger's rise up to meet you… top of the morning and…" well, you get the idea.