Enjoy Our Delicious Store Made Items
For decades, our bakery has provided our customers with delicious, made-from-scratch baked goods.
If you are looking to order a particular bakery item, please call to give us 24 hours notice, or contact us if you have any questions.
---
Pies
Apple
Caramel Apple
Cherry
Raspberry
Blueberry
Peach
Pumpkin
Prailine Pumpkin
Pecan
Chocolate Pecan
Beef
Turkey
Seasonal: Rhubarb, Strawberry Rhubarb, Mincemeat, & Tortiere
Crisps
Apple
Seasonal: Peach, Rhubarb
Muffins
Blueberry
Carrot
Morning glory
Raspberry Streusel
Lemon Blueberry Streusel
Maple Date & Walnut
Lemon Cranberry
Chocolate Chip
Banana
Cranberry Orange
Oatmeal Apple Raisin
Raisin Bran
Pumpkin
Seasonal: Pineapple Peach, Rhubarb, Strawberry Rhubarb
Loaves
Banana
Pumpkin
Lemon
Cranberry Lemon
Pineapple Pecan
Date Nut
Raspberry Streusel
Blueberry Streusel
Lemon Poppy Seed
Carrot
Apple
Cranberry Coffee
Banana Chip
Poppyseed
Chocolate (Icings depend on the season, including – raspberry, peanut butter, and peppermint)
Rhubarb Pecan (Seasonal)
Gingerbread (Seasonal)
Oma's Fruitcake, Dark and Light (Seasonal)
Cookies
Cowboy
All Butter Chocolate Chip
Peanut Butter
Oatmeal Raisin
Oatmeal Chocolate Chip
Chocolate Dipped Peanut Butter
Pumpkin
Chocolate Chip
Snickerdoodle
Ginger Gems
White Chocolate Macadamia
Dark Chocolate Macadamia
Nuts & Bolts
Oatmeal Date
Smartie
M&M
Salted Caramel
Twix
Short Breads
Scottish
Plain
Pecan Chocolate Chip
Chocolate Chunk
Lemon
Raspberry Almond
Blueberry
Strawberry
Chocolate Dipped
Squares
Rainbow Road
Rocky Road
Peanut Butter Crunchie
Granola Bars
Date Squares
Hello Dollies
Brownies
Walnut Brownies
Fruit
Oreo
Coconut Brownie
Nanaimo Bars
Seasonal: Mint Nanaimo Bars, S'mores, Lemon
Quiche
Spinach & Feta
Ham & Swiss
Mushroom, Bacon, Ham
Quiche Lorraine
Broccoli & Cheddar
Garden Vegetable
Seasonal: Asparagus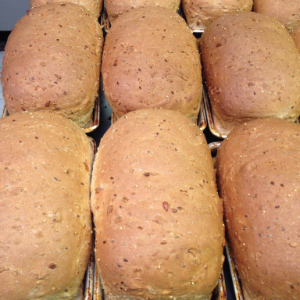 Breads
7-Grain
White
Whole Wheat 7 Grain
Whole Wheat
Oatmeal
Crusty Italian
French
Cheese
Dutch Raisin
Coconut Macaroons
Chocolate Peanut Butter
Salted Caramel
Lemon
Cakes
Contact us for a full selection of cakes available for special order.
Ungers Market – Store Made Bakery Items